I Wish (Solo Version) is a song by Cher Lloyd. It is in Just Dance 2016.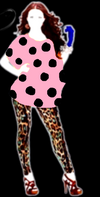 The dancer is female. She is simply wearing a pink and black dotted dress with a black skirt, red heels, leopard pants, and a dark blue glove. She has long curly dark brown hair and looks very similar to Cher Lloyd.
the dancer is male look like teacher who has pink Afro and the dark brown t shirt with white pants and shoes look like jump for my love p1
In the game, they use the solo version of the song, (meaning only Cher Lloyd is singing it in the game) also parts of the lyrics are switched around, It's means without T.I.
This is the third Cher Lloyd song to be in the Just Dance series.