Englishman in New York

Some attributes

First
Song by Sting
Second
released in 1988
Third
Appears on Just Dance 2016

Other attributes

Fourth
Pictogram color is gray
Fifth
Glove color is pitch black
Sixth
Lyrics are highlighted in black
"Englishman in New York" by Sting is featured on Just Dance 2016 and Just Dance Kids 2015.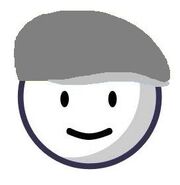 Classic:
The dancer is male and wears the following:
A black-and-white version of the classic outfit from Fine China on Just Dance 2014.
Alternate:
The dancer is male and wears the following:
Pretty much the same outfit as the classic version, but uses an umbrella as a prop, and is more difficult.
Background
Edit
New York City in black-and-white.
Gold Moves
Edit
Classic:
There is 1 gold move for the classic version:
1. Move your hand to the left fast.
Alternative:
There are 5 gold moves for the alternate version:
1. Raise both arms above your head while holding the umbrella.
2, 3 & 4. Lift your umbrella, turn the umbrella to the left, and lift your legs to the upper left.
5. Put your hands (and your umbrella) downwards.
In Party Master Modes, the classic and alternate dancers appears. Here are the captions attributed to the dance moves:
Classic:
New York Dance
New York City Trust
What's Wrong?
Big Apple Shimmy
Sweet Strikes
Come Here
American Heartbeat
Happy Day
Spring Clap
With An Umbrella:
Kick & Wave
It's Raining
Cloud Storm Dance
On My Way
Party Master Mode
Edit
Englishman in New York has a Mashup with the theme Best of JD4. It only features Just Dance 4 dancers beside the dancer himself.
Dancers (No Repeats)
Edit
Englishman in New York (JD2016)
Want U Back
Tribal Dance (With a Katana)
Umbrella
Superstition
Domino
Everything else is unknown for now.
This is the first Sting song in the series.
The dancer is similar to the one from Fine China on Just Dance 2014.
When playing the umbrella mode on the Wii, Wii U, or PlayStation 3, the Wii remote or Move remote has to be treated as the umbrella for the best score.
There is a pictogram error at about 1:30. That pictogram is cherry red, when it's supposed to be gray.
.