Don't Fight It

Some attributes

First
Song by Kenny Loggins and Steve Perry
Second
released in 1982
Third
Appears on Just Dance: Serious but Fun

Other attributes

Fourth
Picto. colors are light pink and navy blue
Fifth
Glove colors are purple and yellow
Sixth
Lyrics are highlighted in green.
Don't Fight It is a 1982 song Kenny Loggins, featuring Journey's Steve Perry. It will be on Just Dance: Serious but Fun.
The dancers are a sister and brother.
P1 (Sister)Edit

Chocolate-brown hair in pigtails.
White dress w/ pink circle patterns.
Cherry-red bolero.
Bright red shoes w/ ankle straps.
Hot purple glove.
P2 (Brother)Edit

Caramel-colored hair that resembles a pageboy.
Navy-blue blazer.
Light gray button-up shirt.
Light-washed ripped jeans.
Black sneakers.
Braces.
Yellow glove.
Background
Edit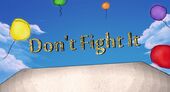 The background is a silver slanted floor (recycled from Just Dance 4's Super Bass), with a periwinkle-colored sky (possibly recycled from Starships, on Just Dance 2014), and the song title written in gold mosaic letters. There are also cartoony-like balloons (recycled from 99 Luftballons, also on Just Dance 2014).
Gold Moves
Edit
There are 3 Gold Moves. They're all the same
All: - Both siblings jump up with their arms held out to the sides.
The theme for this mash-up is Crazy Dance Moves.
Here are the dancers:
REST UNKNOWN
This is the first Kenny Loggins/Steve Perry song in the series.
As pointed out, the word "hell" from Raising some hell is censored, being too inappropriate.
This song has a pictogram error, with the pictograms at 1:11 have been reversed.
Many people like dancing as the sister.
The first dancer appears on the North American cover with a different color palette.