Danger Zone

Some attributes

First
Song by Kenny Loggins
Second
released in 1986
Third
Appears on Just Dance: Serious but Fun and Just Dance: Songs from the Silver Screen

Other attributes

Fourth
Picto Color(s):
Blue/Red (Classic)
Hot pink (Sweat)
Fifth
Glove Color(s):
Yellow/Peach (Classic)
Green (Sweat)
Sixth
Lyric Color(s):
Orange (Classic)
Light blue (Sweat)
Danger Zone is a song by Kenny Loggins. It's on Just Dance: Serious but Fun and Just Dance: Songs from the Silver Screen.
Dancers' Appearance
Edit
The first dancer is a young man with these features:
Shaved hair (similar to Ginuwine).
Blue beach shorts.
Brown sandals.
Yellow glove.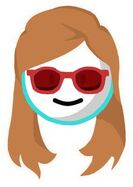 Caramel-colored hair.
Red sunglasses.
Light turquoise bikini top.
Red swim shorts w/ white floral print.
Gold-and-aqua wedges,
Peach glove.
The sweat dancer is female and wears a very athletic outfit:
Blonde hair in two pigtails.
Pink sunglasses.
Pink-and-orange striped T-shirt w/ red palm trees.
Orangy-gold terry short shorts.
Pink-and-yellow high top sneakers.
Jade green glove.
Background
Edit
The dancer is on a flat surface on the rocks. In the back, you can see a sign that reads "DANGER" in red letters. During the chorus, the letters in "DANGER" flash in time to the song.
The usual sweat background, duh!
Gold Moves
Edit
There are three gold moves. They're all the same.
All - Hold your arms up as if you were to get shot by a cop, and move your hips in a clockwise motion.
There's only one gold move in the sweat version.
Swing your arms towards your forehead.
This is the second Kenny Loggins song in the series.
It should've been a DLC for Just Dance 4 or 5.
The sweat dancer is the same as the first backup dancer from the on-stage mode in We Are One.
The song is in a battle with "Hit Me With You Best Shot" in JD Serious but Fun." Click here for the battle.