Choco Factory

Some attributes

First
Song by Monica Avanesyan
Second
Released in 2013
Third
Appears on Just Dance Wii Armenia

Other attributes

Fourth
Picto Color(s): Yellow
Fifth
Glove Color(s): Light Pink
Sixth
Lyric Color(s): Light Blue
Choco Factory is a song by Armenian teen singer Monica Avanesyan. The song will be on Just Dance Wii Armenia.
The dancer is a female teenager and wears the following: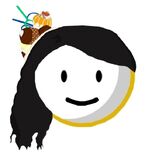 Curly black hair parted to the side (correct me if I'm wrong).
Small detailed hat.
White short-sleeved blouse w/ big, brown-and-yellow bow.
Yellow waist gaucho shorts w/ brown sash.
Brown-and-yellow wedges.
Light pink glove.
Background
Edit
The background is a happy land filled with chocolate.
Gold Moves
Edit
There are three Gold Moves. Two of them are the the same.
1st & 2nd - Put your arms out forcefully, akin to Mr. Saxobeat from Just Dance 4.
3rd: Move your arm across your face, similar to Feels So Right from Just Dance 2014 (it's the last move).
The song is mostly in Armenian, but has several lines in English, meaning that it's a bilingual song.
This song represented Armenia at the Junior Eurovision Song Contest 2013 in Kiev, Ukraine.
The background was recycled from Lollipop on Just Dance 3.
The routine appears to be similar to a cross between Love You Like a Love Song (Just Dance 4) and Feel This Moment (Just Dance 2014).
There is a pictogram error at 1:35.  The pictogram is reversed at that mark.
The difficulty's supposed to be easy, as it contains mostly simple choreography.
Even though the dancer's hair is permed to her right, the avatar has it permed on the left.
The background is slightly similar to the live performance.